We are proud of all the many talented alumni of our College! We also believe that the Class of 2020 deserves a special celebration.
These students, denied a traditional graduation ceremony, enter the professional world at an unusually challenging moment. Where are they going next? Here, we highlight some of our newest graduates as they move on from the CoA+A. Their enthusiasm energizes us. Their courage encourages us. Their talent inspires us. Their hopefulness gives us hope.
---
MARCUS FITZPATRICK (BA THEATRE) ACCEPTED INTO THE MFA ACTING PROGRAM AT UNC CHAPEL HILL
"UNC Charlotte's Department of Theatre gave me the guidance, resources, and community to build the artist that I am today, while also providing me the space to explore the issues that matter to me as a theatre artist. Because of this, going forward in my graduate school training, I have a better understanding of what I have to offer to the craft."
---
SOPHIA BULLOCK (BA ARCHITECTURE '19, MASTER'S IN ARCHITECTURE '20) STARTED A NEW POSITION JUNE 1 IN NEW YORK CITY WITH MOODY NOLAN
"I'll be working as a Project Pursuit & Coordinator/ Designer. I'm incredibly excited for such a big opportunity and big move! I met Moody Nolan at the CareerExpo that was hosted by the School of Architecture. UNC Charlotte prepared me greatly for the field of Architecture. They ensured that I graduated with the confidence to change design in a positive way and gave me the tools to learn more within my expertise moving forward. One thing that stood out to me in the School of Architecture is their dedication to diverse designs and new realms of creativity. They want their students to always be bringing in new and creative ways to see and create architecture, and that allowed for a comfortable work environment."
---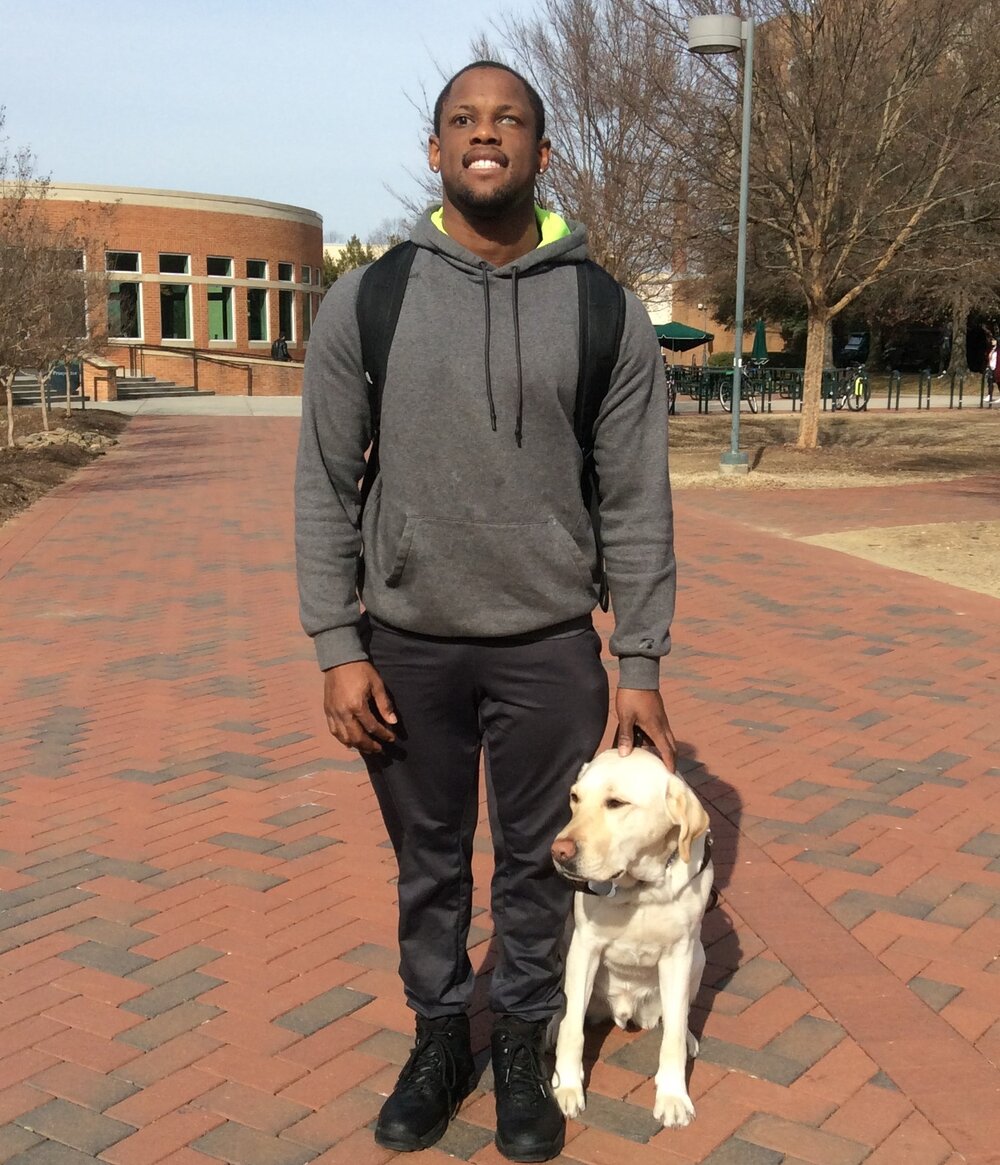 DAVIAN ROBINSON (BA DANCE) PURSUING MFA IN DANCE AT DUKE UNIVERSITY
"At Duke, I will be continuing my artistic journey to bring forth ground-breaking resources to increase accessibility within post-secondary dance programs. UNC Charlotte's Department of Dance has prepared me through technical dance training and an increased scholarly way of thinking about dance. This has given me the confidence to bring increased awareness and understanding of the potential that persons with disabilities can have, particularly those who are blind and visually impaired. Throughout my time at Duke University, my hope is that I will continue to develop a course curriculum that I can integrate into an already established BA or BFA program that will help better equip dance educators, students, and professionals to ensure more accessible and inclusive dance program classes – studio or lecture-based – for persons who are blind and visually impaired."
---
PEDRO PIÑERA (MASTER'S IN ARCHITECTURE) STARTING AS AN ASSOCIATE DESIGNER AT LITTLE DIVERSIFIED ARCHITECTURAL CONSULTING
"The best asset at UNC Charlotte was the broad range of faculty who bring in a constellation of experiences and philosophies about art and design that challenge any single vision of architecture. We are equipped with an inquisitive approach to design, which I think leads to a much-needed innovation and critical thinking in professional practice."
---
MAYA SHEFET (BFA DIGITAL MEDIA, MINOR IN ART HISTORY) ACCEPTED A FULL-TIME POSITION AS A GRAPHIC DESIGNER AND VIDEO EDITOR WITH PARK STREET STRATEGIES IN WASHINGTON, DC
⁠ "Less than two weeks after graduating, I accepted the job in Washington, DC. I believe that I was able to land this job because of the amazing experiences and knowledge that I received through the Department of Art & Art History. Throughout my time at UNC Charlotte, I was taught that hard work, dedication, and working towards a goal will help you be the best version of yourself. I had five internships during my time at UNC Charlotte, which helped me figure out what type of work I would like to do outside of school." ⁠
---
BEKIM SEJDIU (BA ARCHITECTURE '19, MASTER'S OF ARCHITECTURE '20) IS WORKING FULL TIME AT LS3P ASSOCIATES AS A LICENSED ARCHITECT AND SUSTAINABILITY CONSULTANT
"I'll be focusing on building ecologically sensitive projects, getting my green certifications along the way (LEED, WELL, LFC). I am also on the lookout for graduate school a few years down the line for a degree program in building technology/ performance. In my time at UNC Charlotte, I took advantage of the many opportunities the university had to offer. Between iPAL, the Honors College & Martin Scholars, USGBC, and research assistantships, they've each contributed to my own role as a sustainable architect and helped propel my career as a leader on sustainable innovation with some of the largest projects in the Southeast."
---
REGAN SAWYER EUDY (BM MUSIC EDUCATION) HIRED AS THE K-5 MUSIC TEACHER AT MALLARD CREEK STEM ACADEMY
"I accepted my first teaching job at Mallard Creek STEM Academy teaching elementary Music. This has been my dream job since i was 11 years old, and I am so excited to start my career! I'm actually starting up the music program at the school, and UNC Charlotte's Music Education faculty could not have done a better job helping me find the right tools to teach a music class and run a program successfully. I owe so much of who I am as an educator and a person to those outstanding professors. I look forward to teaching young children the importance of music in their daily lives. Music is universal... it unites everyone, and I hope to celebrate each of my students in their diversity while bringing us together as a community who respects what others can bring to the table."
---
ALEXANDER CICHAN (BA ART HISTORY) WILL BE ATTENDING GRADUATE SCHOOL AT MCGILL UNIVERSITY TO PURSUE AN MA IN ART HISTORY
"At McGill, I plan to study medieval and Renaissance art. My research interests primarily focus on the imagery of the Byzantine Empire and how it interacted with visual cultures in Europe, the Middle East, and Asia during the Late Middle Ages and the early modern period. I'm greatly appreciative of UNC Charlotte, especially the art history faculty, for providing a welcoming environment that allowed me to hone and explore my interests."
---
ALAA BOU GHANEM (BA ARCHITECTURE) HIRED AS A LICENSED PROJECT ARCHITECT IN THE COMMUNITY PRACTICE GROUP AT LITTLE DIVERSIFIED ARCHITECTURAL CONSULTING
"The School of Architecture at UNC Charlotte has been my home away from home for the past seven years. As an immigrant from the country of Lebanon, UNCC was able to provide me with not only a pristine architectural education, but also a sense of inclusion and diversity that equipped me with important and timeless social values and technical skills. In my new position with Little Diversified Architecture Consulting, I will mostly focus on civic, higher education, and school projects. I have my participation in the IPAL program that the SoA partners with to thank for helping me receive this position."
---
ROSE WUERTZ (BA DANCE PERFORMANCE AND BIOLOGY MINOR) IS ATTENDING GRADUATE SCHOOL AT WINGATE UNIVERSITY TO PURSUE A DOCTORATE OF OCCUPATIONAL THERAPY
"I am very excited to be pursuing a Doctorate of Occupational Therapy at Wingate University. My background in dance from UNC Charlotte pairs well with this degree as it provides a creative view to health and wellness.
Occupational therapists work with many populations to help them fully participate in the specific activities, or "occupations," that are important to their quality of life. I hope to use my passion for dance to help others discover the activities that bring them a sense of fulfillment. My time at UNC Charlotte taught me how to consider various cultural perspectives, and it deepened my understanding of the human body, allowing room to participate in the community with organizations such as Dance for Parkinson's Disease. I am eager to put what I have learned at UNC Charlotte to use as I begin a new journey to help others on their path to wellness."
---
KAITLYN LINSCHEID (BFA ART EDUCATION) WILL BE THE ELEMENTARY ART TEACHER AT OAKHURST STEAM ACADEMY
"I am so excited to take this next step and make a difference in my own elementary art classroom! My time at UNC Charlotte has granted me countless opportunities to get out in the community to explore, experiment, and teach! The dedicated art education faculty have helped in shaping me to be the art teacher that I am today. During my time here at UNC Charlotte, I have strengthened my knowledge of and passion for teaching the visual arts by gaining experience through clinical hours, studying abroad with the art department, and working with new mediums in studio classes. Go niners!
---
DRAKE CECIL (BA ARCHITECTURE '19, MASTER'S IN ARCHITECTURE '20) IS JOINING FMK ARCHITECTS IN CHARLOTTE
"I'm truly excited to have recently graduated from Charlotte. It has been an honor to study within the School of Architecture and share so many memories with my colleagues. Upon graduation, I have accepted a full time position at FMK Architects here in Charlotte. So far, it has been a wonderful experience, and I feel that the firm will contribute greatly to my professional growth. Currently, I have no plans for further studies, but I approach anything I do with hopes to never be finished learning. Charlotte is a wonderful place to be, and my goal is to contribute to its growth carefully during these important times."
---
ALAYNA GOROSPE (BFA GRAPHIC DESIGN) HIRED AS THE MARKETING MANAGER FOR CHARLOTTE PLASTIC SURGERY
"I am exited to announce that I have accepted a Marketing Manager position here in Charlotte. In this position, I will be responsible for providing direction, guidance, and leadership to the marketing department. I will also be developing and running advertising campaigns, which I could not accomplish without the guidance of the professors in Digital Media/Graphic Design at UNC Charlotte.
Throughout my years at UNC Charlotte, I had the opportunity to work for three different design internships. Each taught me important skills that I will be utilizing daily. With that being said, I could not have accomplished this without the endless educational and leadership opportunities UNC Charlotte and the College of Arts + Architecture has offered me over the last few years."
---
JACOB BOHAN (BACHELOR OF MUSIC) IS NOW ASSISTANT BAND DIRECTOR AT HOLY TRINITY MIDDLE SCHOOL AND ASSISTANT BAND DIRECTOR AND DIRECTOR OF JAZZ AND PERCUSSION STUDIES AT CHARLOTTE CATHOLIC HIGH SCHOOL
"This is truly my dream job! I have wanted to be a band director since I was age 13, and my time at UNC Charlotte was the catalyst that made that possible.
Of my time in undergrad, where I was afforded so many opportunities and connections by way of the faculty (and guests they would bring to work with us,) I really learned most from my failures and the discussions I'd have with my music education and studio professors in response to my failures. The guidance I was given, which helped me to become a capable, competent professional, was paramount to my career success. If not for the tough love, I might not be in the position I am now."
---
LAUREN TOOLEY (BA DANCE, BSBA MARKETING) STARTED HER OWN MARKETING COMPANY, MERIDIEM MARKETING, WITH FELLOW UNC CHARLOTTE ALUMNI AND IS WORKING WITH LOCAL ARTISTS
"Meridiem Marketing was started by myself and two other UNC Charlotte alumni (Meredith Pack and Lexi Hunkler.) We wanted to bring our marketing knowledge together to offer start-ups and small businesses exception digital marketing services. Currently, one of my clients is the School of Good Citizenship, where I help manage their social media accounts and create content for their website. They offer a series of events shaped around elevating voices to redefine the role of "citizenship" through the lens of art, community, and civic action. Currently, there is a free photography workshop, sponsored by The Light Factory, that is designed to shift the narrative of the Queen City and celebrate the diverse and meaningful stories that make us who we are.
UNC Charlotte was the perfect environment for me to develop into a professional. The collaborative environment of our campus allowed me to pursue all of my interests and add a variety of skills. I am so grateful for my mentors in the Department of Dance and Belk College of Business for helping me reach my goals"